Harana Para Kay Mama Sita: Birth Centenary Tribute for Country's Favorite Ina
From left: Maestro Jerry Dadap with 3-year-old Eumi Maurin, Leonarda Tulao, Mama Sita Foundation President Clara Kalayaan-Reyes Lapus, Adolfo Reyes, Rosie Lardizabal, and Aida Rejano.
This year marks the 100th birth anniversary of Philippine culinary icon Teresita "Mama Sita" Reyes. On September 29, guests of all ages were gathered at the UP Film Center to witness "Harana para kay Mama Sita," a musical event, honoring the joyous life of the country's favorite Ina.
As often told, Mama Sita's life has always been an inspiration to ordinary Filipinos: a normal young woman who was drawn into cooking like her mother, Engracia "Asiang" Reyes, and later on learned how to combine ingredients, making her own spice mixes and flavors not only for her family but also for her fellowmen abroad longing for the
native delicacies.
"For Mama Sita, life is to be enjoyed to the fullest. Nothing is to be wasted. She loved going to the market to buy the best in season, sang love songs while cooking, and united people through food," shares Clara Reyes-Lapus, president of Mama Sita Foundation and 4th of Mama Sita's 11 children.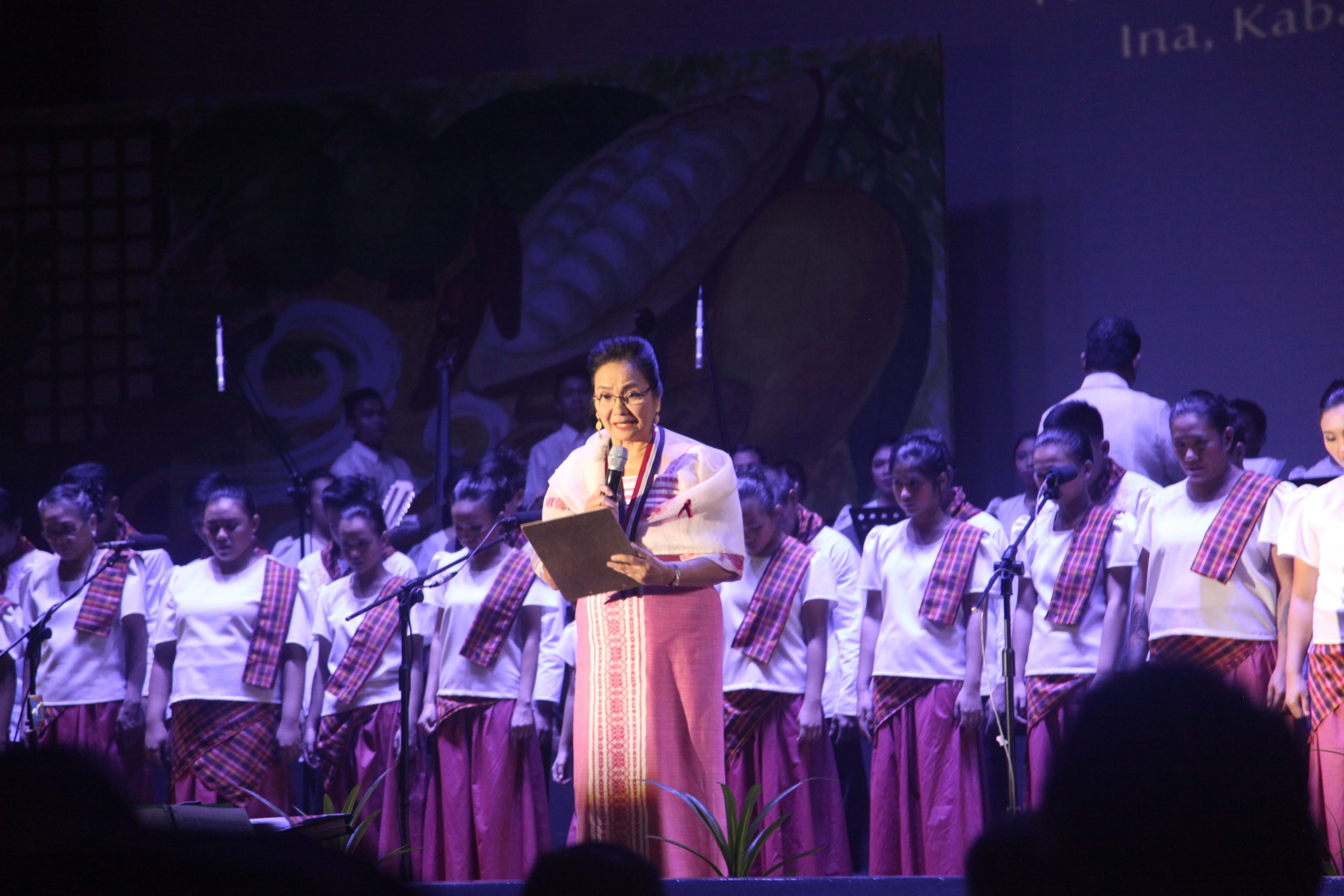 Clara Kalayaan-Reyes Lapus, Mama Sita Foundation President and 4th of Mama Sita's 11 children, giving her welcome remarks.
"Harana para kay Mama Sita" is performed by the Andres Bonifacio Concert Choir (ABCC) with Maestro Jerry Dadap as musical director, assisted by the RTU Tunog Rizalia Rondalla with conductor Prof. Lino Mangandi. The songfest, directed by Victor Sevilla, collected music of different genres to show the life and values of Mama Sita,
illustrating her commitment to the Filipinos through the slogan "Pasasalamat at Paggunita sa isang Ina, Kababayan at Kusinera."
The choir and rondalla aptly heaved up the concert mood with their first performance of Philippine Folk songs "Sitsiritsit," "Inday Pamutos Na," "Atin Cu Pung Singsing," and more. Audiences are then serenaded by the Harana songs such as "Ang Dalagang Pilipina" by Jose Santos, and "Paraluman ng aking Bayan" by J. Massaguer. Consequently, on the third suite are the patriotic music, performing "Kayumangging Malaya" by Lucio San Pedro, "Sa Dalampasigan," Jerry Dadap's signature compositions "Lulay," "Awit ng Pagkakaisa," and "Alay sa Inang Bayan," and the iconic songs "Bayan Ko" by Constancio de Guzman and "Pilipinas Kong Mahal" by Francisco Santiago.
Maestro Jerry Dadap with Andres Bonifacio Concert Choir and RTU Tunog Rizalia Rondalla.
The concert ended with a notable highlight of "Let There Be Peace on Earth" with Tagalog lyrics by Rosario Medina and Dadap's original composition inspired by Mama Sita, "Awit ng Pagkain – Mama Sita March."
A classical Filipino-themed musical, which is considered a rare concept today, "Harana Para Kay Mama Sita" filled in the audiences' yearning for the traditional Philippines. Ms. Virginia Moreno, renowned poetess and founding directress of the UP Film Center, who also co-hosted the musical event, delivered heartwarming remarks
paying tribute to the family of Teresita "Mama Sita" Reyes, all the performers, including the young orators from Malolos' VSE Productions.
Andres Bonifacio Concert Choir and RTU Tunog Rizalia Rondalla performing "Ang Dalagang Pilipina."